What is Snapchat ?
Today we are going to take a look at how brands can use the new social media platform Snapchat to promote their brand. According to Pocket-Lint.com Snapchat is a "popular mobile app that allows you to send videos and pictures, both of which will self-destruct after a few seconds of a person viewing them. Snapchat is also a fun messaging app. You can take a photo or a video with it, then add a caption or doodle or lens graphic over top, and send it to a friend." Although Snapchat was only original thought of as a social media app for the younger generation, new updates to the app have made it more appealing and realistic for companies to now use to market their brands.  According to Track Maven "the launch of Snapchat Memories is the major Snapchat turning point marketers have been waiting for. Brands now have the flexibility to upload branded photos and videos, save their snaps and stories, and repurpose content as needed. Or, they can export snaps, which can then be cross-promoted on other platforms."
Using Snapchat for your Brand
There are many ways that companies can use Snapchat to promote their brands. Some of those include using Snapchat to:
Bring attention and excitement to a new product
Build anticipation around a product launch or promotional service
Create interest in an event, product or service
Provide live social media coverage of an event
Give viewers a "backstage pass" to company or event
Create customer engagement with a brand (ex. best Snapchat or doodle contest)
Increase social media followers
Thank customers
GrubHub Doodle & Snap Contest
Sour Patch Kids Snapchat Customer ENGAGEMENT Challenge
McDonalds Snapchat presence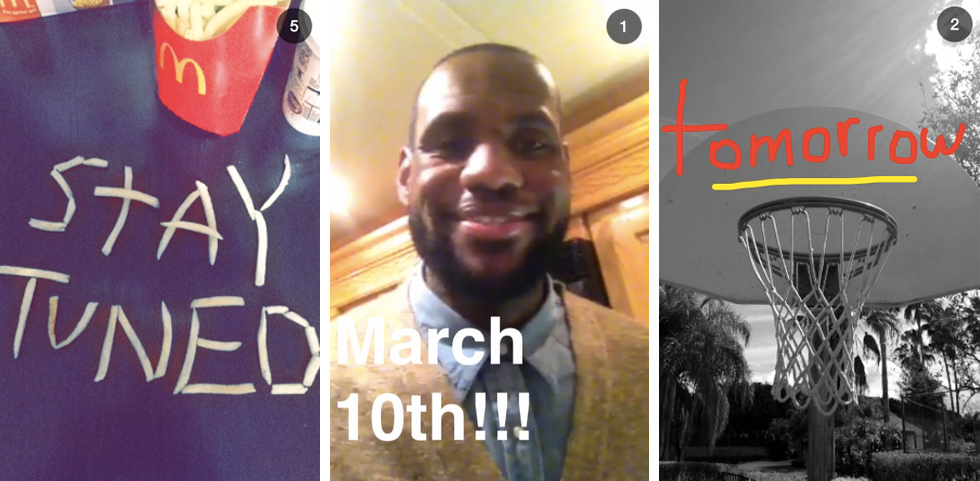 My Snapchat Memory for client Business Improv
Snaps 1-3
Snaps 3-6
Although I can see how beneficial Snapchat could be for a brand,  I actually found the app difficult and quite frustrating to use for this assignment. I have used Snapchat for personal use previously, but found it very difficult to use in a professional setting. The majority of the frustration came from the app being difficult to use, the Stories and Memories features on Snapchat seemed less intuitive than most apps today. Once I opened up a picture from the camera roll or made an edit to a snap, it was almost impossible to get out of the frame without closing the app and starting over.
I also found it difficult to use in a professional setting because of the lack of editing capabilities inside the app. There are a lot of options to add writing and stickers to snaps but there is no way to crop or rotate photos from the camera roll function. Every time I added a photo from my camera roll to my memory, it would appear sideways. There is a function to change this setting on live video but not from the camera roll.  I understand the idea of the app featuring "raw footage" and that the expectation might be less from viewers but I think most companies would want to present content that looks somewhat professional to the world. This brings me to the number one problem with using the app for professional use, there is no desktop compatible version. Everything must be done from a smartphone which must be challenging for companies to coordinate. With the Memories and Stories features companies have the option of adding other content to snap chat, this is very difficult to transfer if all of their content they would like to add had has been filmed elsewhere or is on a computer.
Click Below for the BI Snapchat in Video Form
The story I created for Business Improv on Snapchat could be implemented into the brands marketing campaign to simply promote and draw attention to their services. The images I chose are entertaining and easily grab a viewer's attention to hopefully read the captions. The captions provide information on how Business Improv's services can help improve other businesses which should attract viewers to learn more. The Snapchat Story also highlights different ways Business Improv's services can be applied which should also spark interest. Snapchat could also be very beneficial to Business improve because it is a social media channel that is popular with one of their largest target markets, young students.
How do you think you can use Snapchat to promote your brand?
Cites:
http://www.pocket-lint.com/news/131313-what-s-the-point-of-snapchat-and-how-does-it-work